Fixing Sales Skills Gaps with sales e-learning modules
Fixing sales skills gaps with Sales Skills Audit could not be more simple. Once your candidates have taken their individual assessments your Booking Manager dashboard (for licensee users only) will identify the right e-learning modules for each individual member of your team. Just click "proceed" to automatically assign e-learning modules to each executive according to their personal learning & development needs.
Just like the assessments, e-learning modules are sat online at a time convenient to the candidate and manager, thus avoiding loss of valuable selling time. If you choose to use our Core Skills module (the package of all five consultative selling skills sets) you will be assessing 19 sub-competencies referred to in your reports as "Level Two".
If a candidate falls short in any one of these 19 sub-competencies (below the 50th percentile) your Booking Manager dashboard will automatically recommend the appropriate e-learning modules. In the example below you can see that Susan Sellers has two e-learning recommendations, Resilience & follow-through and Spotting Opportunities.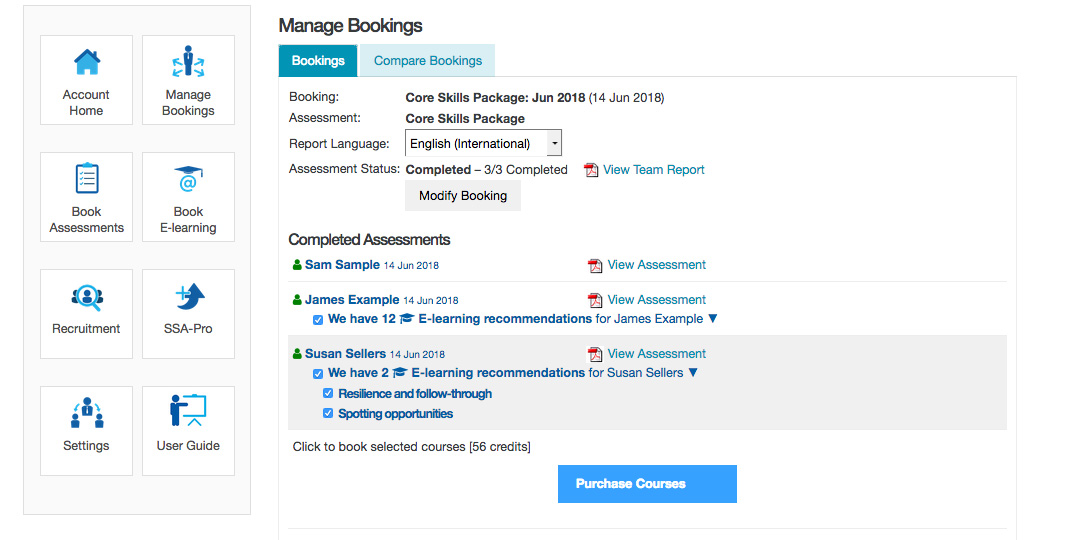 E-learning modules aligned to your Sales Skills Audit reports
There are 19 Sales Skills Audit e-learning modules to choose from. Each one maps directly over to the sub-competencies identified in an individual assessment report, so you can focus sales training in the precise areas most likely to yield an uplift in performance. Below is a full list of the 19 selling competencies that can be assessed and matched to a specific e-learning module.